BE CHANGED.
LIVE CHANGED.
SERVE CHANGED.
Whoever you are, wherever you are from, God can transform your life.
JOIN US FOR OUR PARKING LOT SERVICE AT 9:30 AM SUNDAYs, MAY 24th, 31st, and june 7th. BRING A LAWN CHAIR, BLANKET, OR REMAIN IN YOUR VEHICLE FOR SEATING. WE WILL BE PRACTICING SOCIAL DISTANCING GUIDELINES. HOPE TO SEE YOU THERE!
CONTINUE TO JOIN US ON FACEBOOK, THROUGH VIDEO CHAT, AND HERE ON OUR WEBSITE! STAY WELL AND GOD BLESS!
Sunday School, Children's MInistry, Youth Ministry, and Other ministry groups will continue to meet virtually or provide online content through Facebook and Video Conferencing.
we'd love to hear from you and pray for you!
Contact Our Church Office at 706-492-4242 or at efbc@etcmail.com
Check us out on
Facebook
!
Epworth First Baptist Church is a place where people can ENGAGE with God, WORSHIP Authentically, BELONG Faithfully, INVITE Others, and SERVE Selflessly. We believe in creating a space where people can have authentic encounters with Christ, discover their gifts and use them for God's glory. Join us for our Sunday services!
From Sunday School groups, bible studies, engage groups, and more, we have multiple opportunities for people to gather together in community weekly, encouraging one another closer to a life devoted to Christ.
LYrics for outdoor Service May, 24th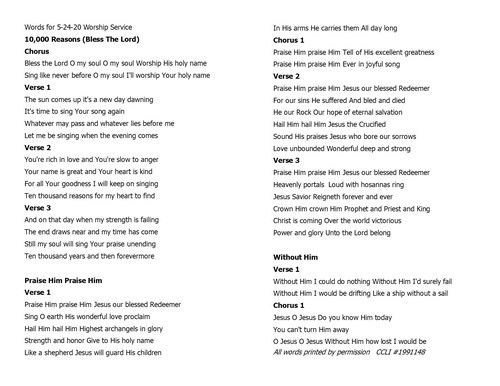 LYRICS FOR OUTDOOR SERVICE
WORSHIP AUTHENTICALLY - We come together to worship authentically through gathering and giving. We believe in elevating the name of Christ in our hearts and lives through our worship and study of His Word.

OUTDOOR WORSHIP SERVICES WILL BE MADE AVAILABLE ON THE WEBSITE LATER IN THE AFTERNOON ON SUNDAY. THANK YOU FOR YOUR PATIENCE!
Sundays at 8:45am, 11am, & 6pm
Wed : 7:00pm
Various Groups Meet Throughout the Week